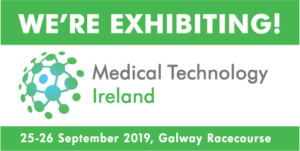 Medical Technology Ireland returns to the Galway Racecourse! MER-Europe will be one of the 200+ suppliers that are exhibiting. Besides the exhibition, this year's event includes a conference programme featuring the Start-up & Innovation Academy and the Women in MedTech Forum.
If you are in the Medical Device Industry and need components, assembly services and, or engineering support – we are hoping to see you there!
Our main focus for over 20 years now, is on products for Neuro, Cardio or Radio Vascular applications. Product types can range from Metal Laser Cut Tubes supporting Steerable Catheters to Multi Lumen Silicone Tubing for CRM applications.
Entry to the exhibition and conference is free. MER-Europe is at the Ground floor, stand 43.