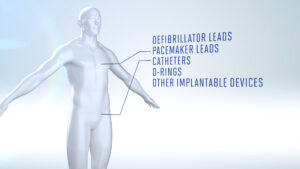 Applied Membrane Technology, Inc. is an expert with 30+ years history in coating of pacing leads. They are also active in the coating of defibrillator and neuromodulation leads. SilGlide® is one of AMT's flagship coatings – but it's really a family of coatings that are customized for each customer's specific need.
AMT's SilGlide® coating is an extremely lubricious coating for biomedical substrates. This ultra-thin coating, measuring less than one micron, displays exceptional resistance to common solvents. SilGlide® demonstrates outstanding resistance to mechanical abrasion and flex fatigue, and it can withstand thermal stresses of up to 200°C. In contrast to other lubricious coatings available in the market, SilGlide® coating is applied dry. SilGlide® can now be applied to Polyurethane in addition to Silicone. This is a new breakthrough at AMT.
Thanks to its remarkable compatibility with biomedical applications, impressive micro and macro-bend strength, as well as its exceptional stability in the face of thermal, chemical, and radiation challenges, AMT's SilGlide® coatings are being increasingly adopted for a wide range of biomaterial-related uses.
AMT effectively works with Silicone extruders on customized solutions for the OEM. Their coatings are something you can't get anywhere else because each one is tailor-made for the customer.
Need a coating solution? Contact MER-Europe and find out more: info@mer-europe.com, +31 (0) 653 608 920. We are dedicated to provide quick answers and high quality engineering solutions.
Download the SilGlide® factsheet HERE
More info: https://appliedmembranetech.com/silglide/