Laser welding of medical components is a specialist process where critical requirements have to be met. During new product development, XL Precision Technologies support their customer with expert knowledge in laser technologies and fast prototyping.
XL PT's Laser Technology Centre utilises semi-automated and manual rotary welding systems plus a fully automated CNC laser welding system. Combined with their tooling and fixturing expertise for high volume production, XL PT are able to offer take your product from prototype to large scale production.
XL PT is certified to ISO 13485.
Laser welded product examples:
Pull Ring & Wire Assembly
For Steerable Catheter devices. This is an ideal assembly for XL PT to produce, utilising our Micro Laser Welding and Laser Tube Cutting capabilities.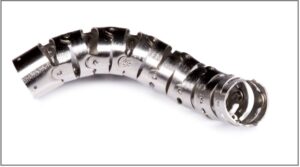 Flexible Endoscopic Vertebra Assembly
Laser Welding of multiple laser cut tube links with micro-machined pins
This illustrates XL PT's production complex tooling capabilities around laser welding to take these types of assemblies from one off development to large scale production.
XL Precision Technologies are experts in 3 core medical component manufacturing capabilities:
Electro-discharge machining (EDM)
Laser Technologies – including spiral laser cutting!
Micro-Machining
If you are looking for a medical device or component manufacturer – we have the resources. Use this link to contact MER-Europe and we will get back to you soon!